Archives
UPDATE: DBB's Jonathan Griffith Participates in Extra Life Fundraiser for the Alberta Children's Hospital
November 20, 2014
Jonathan Griffith returned as a successful fundraiser and gamer from the recent Extra Life fundraiser in Orlando, Florida. He was part of a team that raised $6 million for the Children's Miracle Network.
Jonathan battled his way through 63 competitors to reach the tournament's "feature" bracket, coming in 15th place overall, and most importantly, winning an additional $1,000 for the Alberta Children's Hospital.
Way to go Jonathan!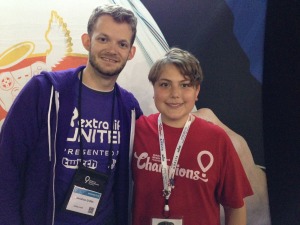 ---
November 10, 2014: We are proud to announce that Jonathan Griffith, lawyer at DBB, will be participating in Extra Life, a fundraiser for the Children's Miracle Network Hospitals.  So far this year, Extra-Life participants have raised over $5.6 million for the charity.
Extra Life is a 24-hour gaming marathon, which will take place November 11-13, 2014.  The event will be hosted in Orlando, Florida, and will be attended by top Extra-Lifers from across Canada and the U.S.
Jonathan will be playing for the Alberta Children's Hospital for a chance to win $50,000 for the Children's Hospital. "The Alberta Children's Hospital works hard to make sure that sick kids get to have a childhood too," said Jonathan. "This fundraiser gives me the opportunity to combine one of my favorite hobbies—playing video games—with an excellent cause."
Jonathan has been involved with Extra Life for three years raising over $4,000—consistently ranking as a top fundraiser.
"I love having the opportunity to help families get through hard times," said Jonathan. "Having a sick child is one of the hardest things for a family. Kids deserve to be playing games and having fun."
Everyone at DBB wishes Jonathan success with this year's fundraising efforts at Extra Life.